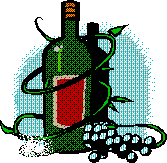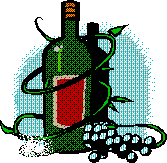 We Cater for Folk who make their own Wine. Come and pick your own grapes, or we can organize to have your grapes picked for you. Interested in more details? Ring (03) 58693354
APPROXIMATELY 25 KILOMETRES FROM ECHUCA-MOAMA
ON THE MAIN SHEPPARTON-BARMAH-MOAMA ROAD.
The vineyard is on the New South Wales side of the Murray River,
close by Barmah Township.
The Vineyard is on a sand ridge, surrounded by flat country.
The view from the homestead which is on top of the sand ridge,
is spectacular.  One can see the Barmah-Millewa Forests
and irrigated farmland spread out over the surrounding lowlands.  On
the sand ridge surrounding the house are the vines, contrasting
with the rest of the landscape.

A PLANNING PERMIT WAS GRANTED FOR AN ON SITE CELLAR DOOR.
40.5 HECTARES OF FREEHOLD LAND. Approximately 24 HECTARES OF WINE GRAPES.
Mainly Chardonnay, Cabenet Sauvignon, Shiraz, Grenache, Sangiovese, 
with small Parcels of Muscat, Marsarne, Semillon, Riesling and Chenin Blanc.
200 Orange and Lemon Trees
120 Megs of irrigation water, mainly high security entitlement from the Murray River.
Vines watered through drip system via ring mains.  
A 40 Square Hebel brick house - 3 bedrooms, 3 toilets plus 2 guest rooms.
Air conditioning and triple heating.  House completed 1999. 
Cadell County Vineyard is for sale.
Appointment to access the vineyard is necessary as this grape area is 
Contact with owners can be made in the
first instance by phone or fax.  The same number applies to either.